ANS Việt Nam là công ty XNK hàng đầu và là nhà cung cấp chuyên nghiệp các mặt hàng
"Thiết bị điện, Điện công nghiệp, Điện tự động"
Chúng tôi đáp ứng mọi xu hướng công nghiệp hóa, hiện đại hóa cũng như mọi lĩnh vực.
Với những thương hiệu hàng đầu và uy tín trên khắp thế giới như: Balluff, Wise, Brooks Instrument, Crouzet - Crydom, Kuebler, Ametek, Dakota, Epluse, Koganei, Status, Sterilair,...
Liên hệ cho chúng tôi theo số 0939 381 395 để CÓ thông tin mà Quý khách CẦN.
- Ms Thư -
< Sales Engineer>
Email : thu@ansgroup.asia
Skype : thu_325
Web: http://anhnghison.com/
A precise jeweled movement, choice of ball bearing mounted rollers and rugged cast aluminum housing makes the DX2 ideal for the toughest production floor application.
Built-in mounting holes permit fixed installation for continuous in-line use.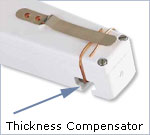 Built-in material thickness compensator maximizes accuracy when using filaments of different diameters. (Standard on model DX2-SP and higher ranges)
Thumb-operated, roller shifting mechanism and exclusive snare-guide automatically guides the moving filament into the V-grooves eliminating breaks and snags.
Front filament loading permits the operator to observe running material, rollers and dial face at all times.
V-Grooved Hardcoat Anodized Aluminum rollers for material speeds up to 2000 meters/min
Optional "K" Bearings for 3000 meters/min or Ultra-High Speed Rollers for 5000 meters/min
DX2's are individually calibrated for highest accuracy.
NIST-Traceable calibration available
DX2's hard-coated aluminum, V-grooved rollers are rated for speeds up to 2000 m/min or, optionally, up to 5000 m/min.
Water Resistant model available with nickel plated axles, sealed bearings, splash guard, sealed housing, drainage holes and more
Finger Support: We recommend mounting a finger support for higher tension ranges (included)