The DX2-EDM Hand-Held Mechanical Tension Meters are designed to measure the tension on all current wire EDM machines with using a wire diameter of approx. 0.25 mm. These models are used throughout the world and considered the standard tension meter for the industry.

The correct erosion wire tension reduces wire oscillation and guarantees a pinpoint accuracy of your machines. Always check the tension in calibration mode on the moving wire. Make sure the generator is switched off for the tension check.
Easy-to-read analog scale
Simple handling
Special versions for specific EDM machines are available
Measuring range 2000 g, 3000 g or 4000 g
Calibration in cN is available
Model
Range
Roller distance
c:c mm
Material
Thickness
Compensator
Calibration Material
DX2-2000-EDM
50 - 2000 cN
75
No
PA: 0.30 mm Ø
DX2-2000-EDM-G
50 - 2000 g
75
No
PA: 0.30 mm Ø
DX2-3000-EDM
100 - 3000 cN
75
No
PA: 0.30 mm Ø
DX2-3000-EDM-G
100 - 3000 g
75
No
PA: 0.30 mm Ø
DX2-4000-EDM
200 - 4000 cN
100
Yes
PA: 0.40 mm Ø
DX2-4000-EDM-G
200 - 4000 g
100
Yes
PA: 0.40 mm Ø
For meter calibrated in Grams add "-G" to part number, ie: DX2-2000-EDM-G

Material thickness compensator: For better accuracy the material to be measured or a similar material with the same diameter should be inserted (only model DX2-4000-EDM).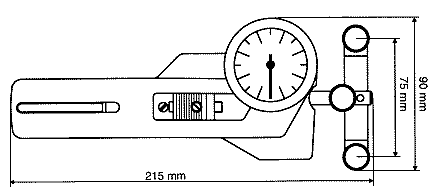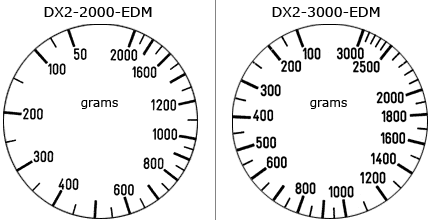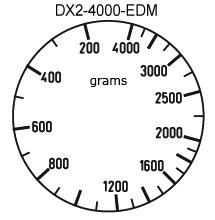 | | |
| --- | --- |
| Accuracy | ± 1% Full scale or ± 1 scale graduation mark |
| Rollers | Material : Hardcoated aluminum Diameter: 12 mm |
| Scale Diameter | 41 mm |
| Temperature Range | 8 - 45 °C |
| Humidity Maximum | 85% RH |
| Housing Material | Aluminum die casting |
| Dimensions | 215 mm x 90 mm x 44 mm (L x W x H) |
| Weight | (net/gross) approx. 500 g / 1000 g |