ANS Việt Nam là công ty XNK hàng đầu và là nhà cung cấp chuyên nghiệp các mặt hàng
"Thiết bị điện, Điện công nghiệp, Điện tự động"
Chúng tôi đáp ứng mọi xu hướng công nghiệp hóa, hiện đại hóa cũng như mọi lĩnh vực.
Với những thương hiệu hàng đầu và uy tín trên khắp thế giới như: Balluff, Wise, Brooks Instrument, Crouzet - Crydom, Kuebler, Ametek, Dakota, Epluse, Koganei, Status, Sterilair,...
Liên hệ cho chúng tôi theo số 0939 381 395 để CÓ thông tin mà Quý khách CẦN.
- Ms Thư -
< Sales Engineer>
Email : thu@ansgroup.asia
Skype : thu_325
Web: http://anhnghison.com/
3 Tension Ranges from 200 - 2000 g to 2.5 - 10 kg
Mechanical tension meter with large rollers and a wide roller spacing for measuring optical fibres, cat cables, buffer tubes etc. up to 8 mm Ø
Hand-held unit with large guide rollers 29.5 mm groove diameter
Tension meter with special guides on the bracket assembly for easy thread

Finger Support: We recommend mounting a finger support for higher tension ranges
Note:This model does not include a material thickness compensator
Thumb-operated, roller shifting mechanism and exclusive snare-guide automatically guides the moving filament into the V-grooves eliminating breaks and snags.
NIST calibration available
Large bending radius assures gentle handling of the material being measured
Front filament loading permits the operator to observe running material, rollers and dial face at all times.
The analog display shows changing and fluctuating tensions fast and enables an optimal process adjustment
| Model | Range | Measuring Head Width |
| --- | --- | --- |
| DXL-2000 | 200-2000 grams | 235 mm |
| DXL-5000 | 400-5000 grams | 235 mm |
| DXL-10K | 2.5 - 10 kilograms | 288 mm |
Order Code
Line Speed
V

max

...m/min
Roller Material
Standard
4000
Hardened-steel
Code R1
4000
Hardened-steel (radius R5)
Air Damping (A)

(for tension range from 20 - 400 g up to max. 400 - 5000 g)
This adjustable mechanical air dashpot is recommended for applications in which great fluctuations of the measured tension occur, as in spooling and winding machines. This assures steady tension readings on scale.
Memory Pointer (M)

Designed to retain the peak value as tensions fluctuate. Manually reset by using the knob located in the center of the dial.
Tension meter with carrying case, operating instruction in german or english (as requested), Certificate of Compliance with the order 2.1 according EN 10204 free of charge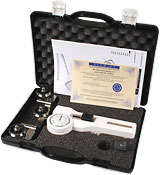 | | |
| --- | --- |
| Accuracy | ±1 % full scale or ±1 graduation on scale |
| Scale diameter | 41 mm |
| Temperature range | 10 - 45 °C |
| Air humidity | 85 % RH, max. |
| Housing material | Die-cast aluminium |
| Housing dimensions | 188 x 85 x 45 mm (LxWxH) |
| Weight, net (gross) | Approx. 640 g (1100 g) |