ANS Việt Nam là công ty XNK hàng đầu và là nhà cung cấp chuyên nghiệp các mặt hàng
"Thiết bị điện, Điện công nghiệp, Điện tự động"
Chúng tôi đáp ứng mọi xu hướng công nghiệp hóa, hiện đại hóa cũng như mọi lĩnh vực.
Với những thương hiệu hàng đầu và uy tín trên khắp thế giới như: Balluff, Wise, Brooks Instrument, Crouzet - Crydom, Kuebler, Ametek, Dakota, Epluse, Koganei, Status, Sterilair,...
Liên hệ cho chúng tôi theo số 0939 381 395 để CÓ thông tin mà Quý khách CẦN.
- Ms Thư -
< Sales Engineer>
Email : thu@ansgroup.asia
Skype : thu_325
Web: http://anhnghison.com/
3 Tension ranges from 400 - 5000 g to 5 - 20 kg

The DX2H tension meter is designed for closed force applications where access space is limited or where filaments lie close together. This hand-held unit is used to measure tension of fixed wires and filaments such as window regulators or guitar strings.

The DX2H uses hooks instead of guide rollers.
For use in closed force systems
Roller shifting mechanism ensure easy acquisition of the material
Minimized bending of material
Custom-built configurations and special calibration are available
Special finger support located on the rear side reduces the effort to move the outer hooks
| Model | Range | Measuring Head Width | Calibration Material* |
| --- | --- | --- | --- |
| DX2H-5000 | 400 g - 5000 g | 116 mm | 0.8 mm dia Monofilament |
| DX2H-10K | 2.5 kg - 10 kg | 116 mm | 1.0 mm dia Monofilament |
| DX2H-20K-L | 5 kg - 20 kg | 116 mm | 1.5 mm dia Monofilament |
Other tension ranges and measuring head widths available on request.
*Calibration to customized material:
If process material differs significantly from the factory calibration material in diameter, rigidity or shape, special calibration using customer supplied samples is recommended. For this purpose a material sample of about 15ft / 5m should be supplied.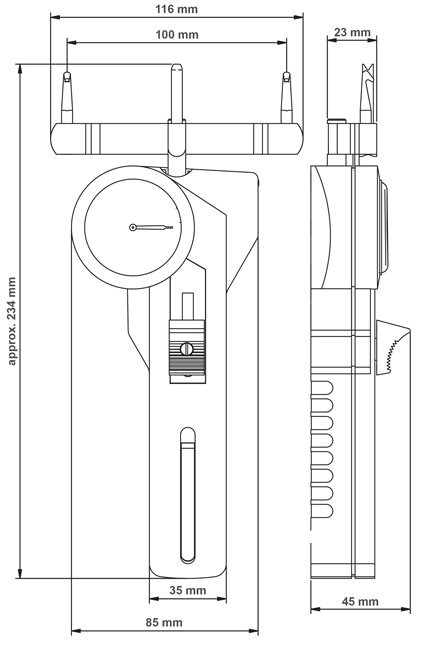 Tension meter with carrying case, operating instructions, Certificate of compliance with the order 2.1 according EN 10204 free of charge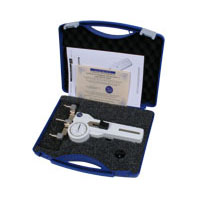 Accuracy
±5% full scale
Scale diameter
41 mm
Temperature range
10 - 45 °C
Air humidity
85 % RH, max.
Housing material
Die-cast aluminium
Weight, net (gross)
DXH-5000 & DXH-10K approx. 470 g (1000 g)
DXH-20K-L approx. 580 g (2000 g)