ANS Việt Nam là công ty XNK hàng đầu và là nhà cung cấp chuyên nghiệp các mặt hàng
"Thiết bị điện, Điện công nghiệp, Điện tự động"
Chúng tôi đáp ứng mọi xu hướng công nghiệp hóa, hiện đại hóa cũng như mọi lĩnh vực.
Với những thương hiệu hàng đầu và uy tín trên khắp thế giới như: Balluff, Wise, Brooks Instrument, Crouzet - Crydom, Kuebler, Ametek, Dakota, Epluse, Koganei, Status, Sterilair,...
Liên hệ cho chúng tôi theo số 0939 381 395 để CÓ thông tin mà Quý khách CẦN.
- Ms Thư -
< Sales Engineer>
Email : thu@ansgroup.asia
Skype : thu_325
Web: http://anhnghison.com/
Long, flat fingers and miniature V-grooved rollers are used in applications where there is limited access space or where the running filaments are close together.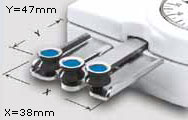 Measuring Head Dimensions
Head Width (X): 38 mm
Head Length (Y): 47 mm
22 mm distance between outer rollers permits a narrow access "window" of only 1/2" x 1 - 1/2".
Rollers are rated for speeds up to 900 m/min. or, optionally, up to 2000 m/min (K).
Turned-up outer finger edges guide the running filament into the roller grooves, eliminating snags behind the rollers.
| Model | Range |
| --- | --- |
| DX2F-3 | 3-30 grams |
| DX2F-5 | 10-50 grams |
| DX2F-12 | 20-120 grams |
| DX2F-20 | 20-200 grams |
| DX2F-30 | 20-300 grams |
| DX2F-40 | 20-400 grams |
| DX2F-80 | 100-800 grams |
| DX2F-SP | 50-1000 grams |
| DX2F-EX | 100-1000 grams |
| DX2F-200 | 200-2000 grams |
*Note:
Can be calibrated for cN units, add sufix "-CN" to end of part number
DX2F Dial Faces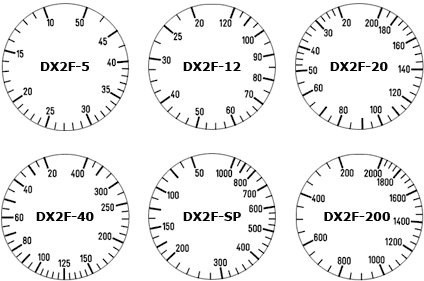 *Note: not all scales are shown
Accuracy
± 1% of full scale or
± 1 graduation mark on scale
Diameter of Scale
41 mm
Maximum Speed
6000 m/min
Roller Material
Hard-coated aluminum (standard)
Hardened steel (ST)
Chromed Steel (w)
Plastic (PL)
Housing Material
Die-cast aluminum
Dimensions
225 x 90 x 44 mm
(8.6" x 3.5" x 1.7")